(16/10/2018)
The opening route took place with two trains between the stations of Jeddah and Medina, and now commercial pre-operation has begun, which Renfe, Adif, Ineco and Talgo will lead.
During the pre-operative phase, which will last for about a year, eight daily trips will be offered between Mecca and Medina from Thursday to Sunday. From January 2019, services will be reinforced, with the aim of reaching a maximum of twelve frequencies every day.
The high-speed train between Mecca and Medina, the biggest international contract for a Spanish consortium, includes the design and construction of a 450-km line and all its systems; the supply of 35 trains, plus a royal train; and the management, operation and maintenance of the line and stations for twelve years.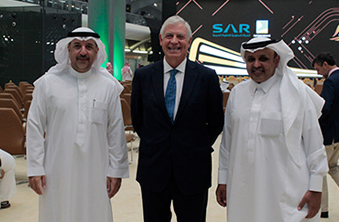 The consortium is formed by the Spanish companies Adif, Renfe, Talgo, OHL, Ineco, Indra, Cobra, Copasa, Imathia, Abengoa Inabensa, Siemens Spain and Consultrans, and the Saudi firms Al Rosan and Al Shoula.
Figures

With the additional amounts agreed with the client, the contract's current value is close to 7,100 million euros. 200,000 tonnes of rail, 4.1 million tonnes of ballast and 4.45 million metres of cable for the electrification have been installed on the 450-km double-track line.
The 35 Talgo Haramain trains, which belong to the already manufactured in its entirety Talgo 350 SRO series, and which have already covered 430,000 kilometres in trials, are adapted for the extreme climate and geography of one of the most hostile environments of the planet.
Train systems have been strengthened with what is called the "desert pack", which incorporates over 30 additional technologies specifically developed to overcome the tough conditions of the Saudi desert, such as sand and dust in suspension, high temperatures and storms.